Angsoka Beach Villa
This impressive designer villa is located on over 1.500 sq. m land, with close to 900 sq. m of luxury lifestyle. The huge living room, overlooking the 20×5 meter infinity pool with fire-pits and breath taking ocean panorama view in the background, is nothing but spectacular. All the rooms in this spacious villa enjoy direct ocean view. Two big owners suites and 4 big guest rooms can accommodate most families or up to 12 good friends.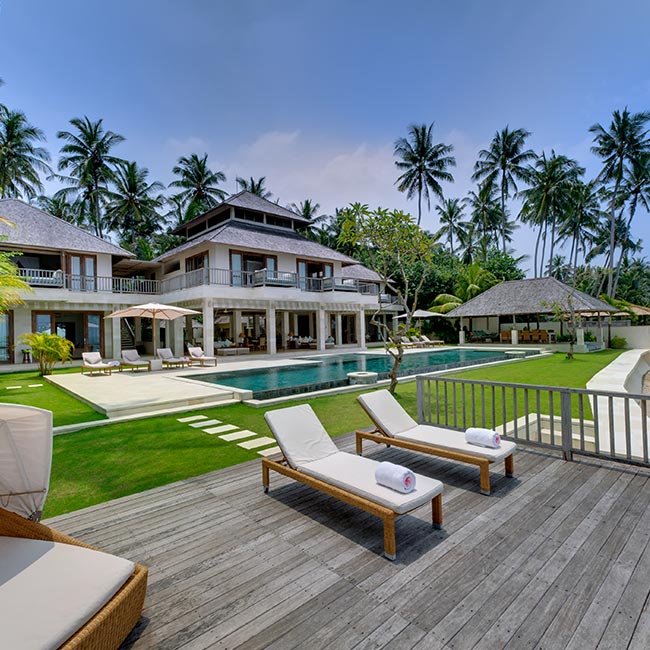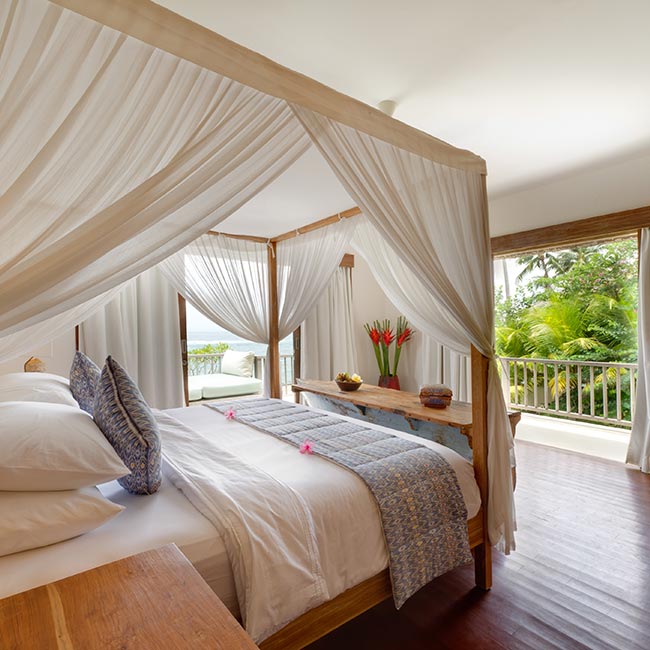 Facilities & Services
Upstairs you find two very spacious air conditioned owners suites filled with antiques. With super king beds of ultimate quality and mosquito nets, spectacular ocean view, walk in closets with plenty of space, private safety deposit boxes and luxurious bathrooms. From these bathrooms you might on a clear day be lucky and see the magnificent Mount Agung..
There are two more guest rooms both upstairs and downstairs, all air conditioned and spacious with the same luxurious super king beds and mosquito nets, safety deposit boxes and beautiful bathrooms. All of them with fabulous ocean view.
Living Room
Angsoka Beach Villa can accommodate many guests without anyone feeling crowded. The living room has in all 4 seating areas to enjoy. Whether you want to directly overlook the infinity pool, or relax in one of the built-in corner sofas close to the pond, is up to you. Carefully selected Balinese antiques and artifacts, makes a vast living area even cosy.
Media Room
This entertainment retreat has air condition. The 47" LCD TV with cable connection to a large part of the world will keep you updated on the latest scores or keep you in touch with reality. The DVD player is open for any preference. The stereo sends your choice of music to all the Bose speakers in the living areas.
Dining Rooms
There are 3 alternative dining areas in Villa Angsoka. The most informal is in the beautiful kitchen, on a bar stool around the cooking island. Fun for kids or four adults, who wants a quick bite or a late night snack.
The most formal is around the fantastic dining table, made of one piece of wood, in the middle of the huge living room. Here you can dine 16 people. If you move the table from the Bale (gazebo) and add that, you can dine up to 28 people here. That gives room for all the guests in all the 3 villas of Siri Mendira Beach Villas.
By experience, the most preferred dining area is in the Bale. Here you can enjoy the sea breeze, the arm pinching ocean view and the moonlight at night. Here you really get the true feeling that you are in the tropical paradise of Bali. You will never want to leave.
The Kitchen
This is the most important room for those that love to create delicious meals, or have them made by our staff. Here you have all the space you need to create magic. Black granite counters, beautiful woodwork and a big double fridge/freezer with an ice-maker. Two stoves, one of them a 90 cm gas stove with a salamander on top. Perfect for grilling super king prawns, lobsters or other food that prefers to get grilled from the top.
You can enjoy having a glass of wine or a late snack on one of the bar stools around the cooking island, or just have pizza time for the kids. The kitchen has air conditioning.
The Bale
This traditional treat you will learn to enjoy. An outdoor dining room, shaded from the sun, but open for the breeze. As long as the weather allows, this is where most guests love to enjoy their meals. If you want to take a swim before you finish your morning coffee, just jump in the pool.
The Terraces
The beautiful white palimanan stone that covers all the terraces has a unique quality – it stays cool in the sun. The palimanan is a blessing for both small and big feet, when the sun is at the strongest.
RATES 2023-2024
LOW SEASON
from 10th of January to 1st of June and from 1st of October to 20th of December, USD 1.650 +5% service charge +10,5% tax (15.5%), incl. breakfast for up to 12 people. Baby cots free of charge, extra bed USD 80 ++, same inclusions.
——-
HIGH SEASON
from 1st of June to 1st of October, Chinese New Year and Easter, USD 1.850 +5% service charge +10,5% tax (15,5%), including breakfast for up to 12 people. Baby cots free of charge, extra bed USD 90++, same inclusions.
——-
PEAK SEASON
from 20th of December to 10th of January, USD 2.100 + 5% service charge +10,5% tax (15,5%), incl. breakfast for up to 12 people. Baby cots free of charge, extra bed USD 100 ++, same inclusions.
---
---
Availability & Reservation